Wine Business Monthly: Good Stewards of the Land
Good Stewards of the Land: The Central Coast Vineyard Team is helping eco-friendly vineyards become certified.

by Kathy Marcks Hardesty
The following article was posted on February 15th, 2009, in the Wine Business Monthly.

At the end of 2008, the Central Coast Vineyard Team (CCVT) had much more than a new growing season and 15th anniversary to celebrate. The success of their new Sustainability in Practice (SIP), a vineyard certification program has made it easier for vineyards to earn certification as sustainable growers, enabling vintners to label their wines with a SIP, Certified seal for release to the market this year.
"We've been methodic and purposeful as a farmer's group at pushing the envelope of farming practices," explained CCVT executive director Kris O'Connor, who noted that SIP's pilot program included vineyard owners with as few as four acres of vines to those with more than 1,000 acres. "Sustainable farming is a natural evolution. We believe growers want to do this, and we believe winemakers want to make sustainably grown wines."
O'Connor said consumers are more receptive to the seal because it backs up the winery's claim that it's eco-friendly. To use the seal, 85 percent of the grapes must be grown in a certified sustainable vineyard. With the successful conclusion of the 2008 pilot program, all of the 14 applicant vineyards (which total more than 3,000 acres) achieved certification following a third-party audit by an independent advisory board.
Members of the advisory board included USDA Natural Resources Conservation Service, U.S. Environmental Protection Agency, American Farmland Trust and Cal Poly of San Luis Obispo, among other agencies. The program draft standards require detailed documentation and whole farm system management integration, which are reviewed by third-party auditors.
Despite the current interest in going "green," becoming certified organic remains beyond the reach of most winegrape growers. Thanks to the vintners and growers who have proven that organic, sustainable and/or biodynamic growing practices improved their grapevines and the resulting wines, farmers are following their lead. More and more quality growers are adopting environmentally-friendly practices, albeit without certification.
Although they follow the strict farming standards required of certified organic farms, they don't want to tackle the burdensome job of recording the details that are also required. And though it is easier to become certified sustainable in CCVT's program compared to becoming certified organic, achieving certification doesn't lighten the paperwork load. One pilot vineyard's binder of documents weighed nearly 10 pounds when it was turned over to the third-party auditor.

Model Program
In 1996, CCVT started the Positive Points System (PPS), which O'Connor said was the first self-assessment program for growers using sustainable vineyard practices. "It became a model for many other sustainable programs within and beyond the wine industry," she said. Its success inspired the third-party certification program that's now called SIP. "It's been under development almost four years during which we completed the standards and incorporated hundreds of comments from peer reviews, including governmental, environmental, social, agricultural and academic representatives."
She added that SIP is attracting a wide variety of growers, with people who want to be in it for a variety of reasons. O'Connor candidly admitted the paperwork required from growers is still a burden. "A lot of documentation is required by farmers: farming practices, human resources, habitat and more. The paperwork from Wolff Vineyards weighed nine pounds." She said it takes the grower anywhere from one to two full weeks to answer the questions and assemble the paperwork. Then the third-party auditor visits the vineyard for a visual inspection to check the accuracy of the documents.
Participants in the pilot program were required to adhere to a strict protocol and prove their compliance through detailed documentation. Of the 41 requirements in the draft standards (rules), growers must complete all requirements, for which they earn 500 points. And then there are 156 management enhancements throughÂout the standards that earn points; of these, growers must achieve a minimum of 250 points. A total of 750 points are required to earn certification.
Vineyards from Monterey to Santa Ynez that participated in CCVT's pilot program included: Ampelos Cellars, Castoro Cellars, D'Anbino Vineyards & Cellars, Hahn Estates, Halter Ranch, Hiliard Bruce Vineyard, Jackson Family Wines, Laetitia Vineyards & Winery, Paragon & Firepeak Vineyards, Paraiso Vineyards, Pomar Junction Vineyard, Robert Hall Winery, Saucelito Canyon Vineyards and Wolff Vineyards. O'Connor noted each vintner was chosen because of their commitment to sustainable farming.

Creating Balance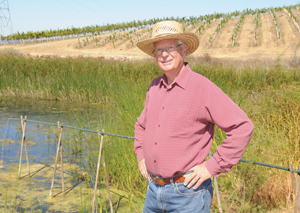 When Jean-Pierre Wolff bought the historic McGregor Vineyard in 1999, now Wolff Vineyards, he invited CCVT to conduct biological research on his estate. "I prefer being a steward of the land and creating a balance by giving something back to the land," Wolff explained. "I've always been inclined to be that way, and I came at it open-minded." When the third-party auditor inspected Wolff Vineyards, he noted on Wolff's gigantic binder of documents that his was an "award-winning vineyard."
Wolff leaves the vineyard management to the experts at Pacific Vineyard Co. run by veteran George Donati and his managers Scott Williams and Erin Amaral. They manage more than 80 percent of the privately owned vineyards in Edna Valley, including Baileyana/Tangent, Domaine Alfred, Edna Valley Vineyards and Tolosa. (Only two of the AVA's wineries manage their own vineyards, Alban and Qupé.)
While visiting Donati and his team at Paragon Vineyard in Edna Valley, he noted: "We've already been doing the (sustainable) farming; now it's just about documenting it." A few months earlier he and Williams attended classes by John Crossland, owner of Vineyard Professional Services, Inc. in Paso Robles, where they learned new methods in planting that are better for the vines, less costly and easier on the farm workers.
"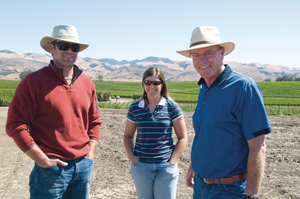 More wineries are asking to become sustainably farmed," said Williams, who added that they're managing most of the land around them, which helps the adjacent properties. "Becoming certified validates what we've done all along." Donati spoke proudly of his young team whom he describes as the driving force of sustainable farming. "They come up to me and say, "We can't spray,' so I ask them to solve it. When they want to change to something, they come up with solutions."
Amaral, who describes their book of documents for CCVT as a "living document," handles their mealybug problem with ant trap stations and pheromone cards instead of sprays. Working in conjunction with UC Berkeley, she said they started looking at parasitism in the area. She starts the new growing season by walking the vineyard and finding the nests, setting the traps near them in early spring. She also places about 250 pheromone cards per acre. "It (the cards) confuses the male mealybug, and they only live a short period so they don't get to do their job," Amaral explained. "It also keeps parasitic wasps here who smell the pheromone and stay to feed on the bugs. This type of pest control takes a few years; it requires a different mind-set."
Wolff actively participates in his winery and vineyard operations, but he dedicates his time to his pet projects. They earn the vineyard enhancement points. Wolff established a refuge for California Pacific pond turtles and steelhead trout, protected under the threatened species act. He spent five years working on a one-and-a-half mile creek running through his estate: stabilizing the embankment, rebuilding the canopy to protect the smelt from predators and building a trout resting pond.
The last two years were difficult, he noted, due to drought conditions. But a nearby well, naturally pumped by an old windmill he restored, replenishes the pond. He also built the pipeline high above the pond to help oxygenate it. He said care of the pond requires a delicate balance, but there are benefits: "If I can reduce embankment erosion, I don't lose eight feet of my land in a storm."

Setting New Standards
Over the last 14 years CCVT has set new standards for the farming community. With all 14 Central Coast wineries that signed up for the pilot program earning certification, O'Connor is already looking toward the future. She hopes to begin educating tasting room staff and wine consumers. Their new website, www.sipthegoodlife.org, provides a better understanding of SIP, sustainable farming and the farmers' and winemakers' commitment to protecting natural and human resources.
During CCVT's 15th anniversary in 2009, O'Connor expects all 14 SIP participants to recertify and she hopes to add an equal number of new members. "We've been training farmers and farm managers, and it's not restricted to the Central Coast," O'Connor pointed out, adding they would help any growers who were interested and wanted to learn more. "Now we're realizing the need to train the side of the business who interacts with consumers."

« Back to Press Index
© Copyright 2019 Pacific Coast Farming
All Rights Reserved.